Open House Prague, a week-long festival which celebrates Prague's architecture, took place on May 16–22, 2022. With dozens of usually inaccessible buildings and an eventful accompanying program, the 8th Open House Prague attracted 64,000 visitors, which is 10,000 more than last year.
Thank you to all the visitors for an amazing atmosphere, to all the volunteers, partners from the buildings, and our supporters! Did you enjoy the festival? You can support the next Open House Prague or become a member of the Architecture Lovers Club! 👇
Were you not able to buy our merch? You can visit our recently restocked e-shop where you can find posters, t-shirts, matching cards, coloring pages, and other beautiful souvenirs. By making a purchase, you support the festival! 💙
The festival may be over now, but you can still explore the city with us throughout the year! There are walking tours around Prague led by our amazing guides whom you might have met in the open buildings. These tours provide a great opportunity to visit some of the new buildings without having to wait in a line. 👇
The next Open House Prague will take place May 15–21, 2023.

Thank you for your support!
Slide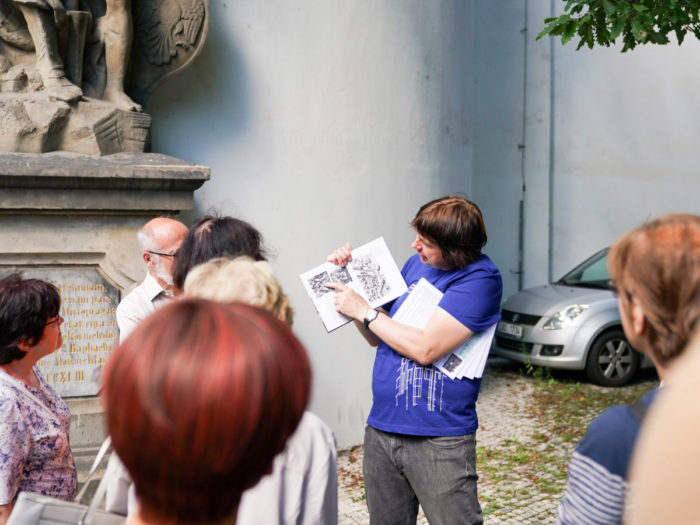 Open House Prague is the first Czech festival of its kind that has opened itself to people with visual disabilities and hearing disabilities while fully respecting their needs, putting emphasis on their safety and providing them with the full experience. Accessibility is about determination, not about financially demanding solutions or modifications. Andrea Šenkyříková, director of the festival, has simply decided to make Open House Prague for everybody, and she is acting on that decision. That is why people with hearing disabilities and visual disabilities can explore the beauties of Prague's architecture. I am happy that Světluška can be a part of that.
Gabriela Drastichová
Světluška, a foundation managed by Český rozhlas (Czech Radio)
Exploring new buildings always brings a feeling of excitement and discovery. That is not the most important thing about Open House, though: the ability to enter buildings which have previously been just anonymous spots in the map for us and see them from the inside allows us to deepen our relationship with the city and become more connected to the place where we live.
Petr Hlaváček and Magdalena Hlaváčková
Architekti Headhand
Partners
Financial Support
Partners
Main Media Partner
Media Partners
Open House Prague takes place under the auspices of the following people:
Martin Baxa, culture minister
Nick Archer – ambassador of the United Kingdom
Zdeněk Hřib – mayor of Prague
Petr Hlaváček – deputy mayor of Prague
Hana Třeštíková – councilor for culture, protected buildings care, exhibitions, and tourist industry
Naděžda Goryczková – CEO of the National Heritage Institute
Petr Hejma – mayor of the Prague 1 Municipal District
Alexandra Udženija – mayor of the Prague 2 Municipal District
Jiří Ptáček – mayor of the Prague 3 Municipal District
Irena Michalcová – mayor of the Prague 4 Municipal District
Renáta Zajíčková – mayor of the Prague 5 Municipal District
Ondřej Kolář – mayor of the Prague 6 Municipal District
Jan Čižinský – mayor of the Prague 7 Municipal District
Ondřej Gros – mayor of the Prague 8 Municipal District
Tomáš Portlík – mayor of the Prague 9 Municipal District
Renáta Chmelová – mayor of the Prague 10 Municipal District
Jan Adamec – mayor of the Prague 12 Municipal District
Miloš Růžička – mayor of the Prague-Ďáblice Municipal District
Tomáš Bryknar – mayor of the Prague-Troja Municipal District
Zuzana Vejvodová – mayor of the Prague-Zbraslav Municipal District